Climate Change Committee – 2023 Progress Report to Parliament
On 28th June 2022, the Climate Change Committee published their Annual Progress Report to Parliament. The CCC have reviewed the impacts of the government's net zero strategy and policies across all sectors and analysed its adequacy. Set out below is a summary of the report.
Energy Efficiency
Overall, the CCC declared that their confidence in the UK meeting its carbon reduction targets has decreased over the last year. The CCC's Monitoring Framework, which measures the UK's progress towards net zero, concluded that progress on energy efficiency measures is "significantly off track". Progress against the CCC's recommendations from last year has largely been insufficient. In particular, no progress was made in introducing a clear, implementation focused policy to ensure owner-occupied homes reach a minimum energy performance of EPC C by 2035.
Despite the Government detailing its ambition to decarbonise buildings in 2021's Heat and Building Strategy, the CCC's Progress Report notes that all major progress indicators are falling behind, with the possible exception of overall emissions reduction. In this area, there has been a 16% decrease since 2022 in emissions from homes. However, the CCC noted that this headline decrease was largely due to high energy prices and milder than usual weather. Adjusting the data to account for temperature-related factors reduces the decrease in residential emissions to just 6%. It also observed that reductions in emissions and energy use are unlikely to continue without further policy interventions.
While the CCC reiterated its support for upcoming changes to regulation, including the implementation of the Future Homes Standard, there is a sense that the current pace of decision making is not fast enough to deliver Net Zero commitments. Slow decision making is creating uncertainty right across the sector, ranging from how to deliver sufficient retrofit measures to investment decisions in skills and building supply chains.
The CCC also point to the need to give greater attention to policy gaps relating to non-residential buildings. Temperature-adjusted emissions show an increase of 5% in emissions from non-residential buildings since 2022. This is partly due to a rebound in the number of people returning to office work after the pandemic, however, there is still an urgent need for more policy certainty in this area. Currently, "There are no convincing plans to decarbonise commercial buildings", according to the CCC.
Progress reported for specific indicators are as follows:
Despite an increase in funding available for social homes, actual numbers of installations have not yet increased, and installations under ECO also lag behind the CCC's pathway expectations with each iteration of ECO delivering fewer measures, and ECO4 starting slowly.
The uptake of energy efficiency measures remains slow, especially in the owner-occupied and private-rented sectors, despite the energy crisis providing an increasingly clear financial incentive to retrofit properties
Public sector and commercial buildings also require an increase in the uptake of fabric energy efficiency improvements.
The CCC reported that 77% of building related emissions in the 6th Carbon Budget are judged to be "at significant risk, or with insufficient plans", highlighting significant policy gaps in this sector. They judged that the greatest policy gap is in dealing with energy efficiency in non-fuel-poor homes. For each sector, a number of specific recommendations have been set out to address the evident policy gaps, which we have summarised below.
Recommendations
The CCC report classes energy efficiency improvements to existing buildings as a "no-regret" option for the decarbonisation of buildings.
As an urgent priority, the CCC has called on the Government to finally respond to the 2020 consultation on requiring that homes in the Private Rented Sector (PRS) meet an EPC C by 2028. This response was promised at the end of 2021. This substantial delay and a lack of policy certainty from Government is holding back progress in this area.
A comprehensive home energy retrofit scheme is required to provide long term funding for consumers and supply chains and support the installation of energy efficiency measures. It is also necessary to consider a whole building approach that will be effective across multiple building archetypes, including those that are traditionally difficult to retrofit, such as large blocks of flats.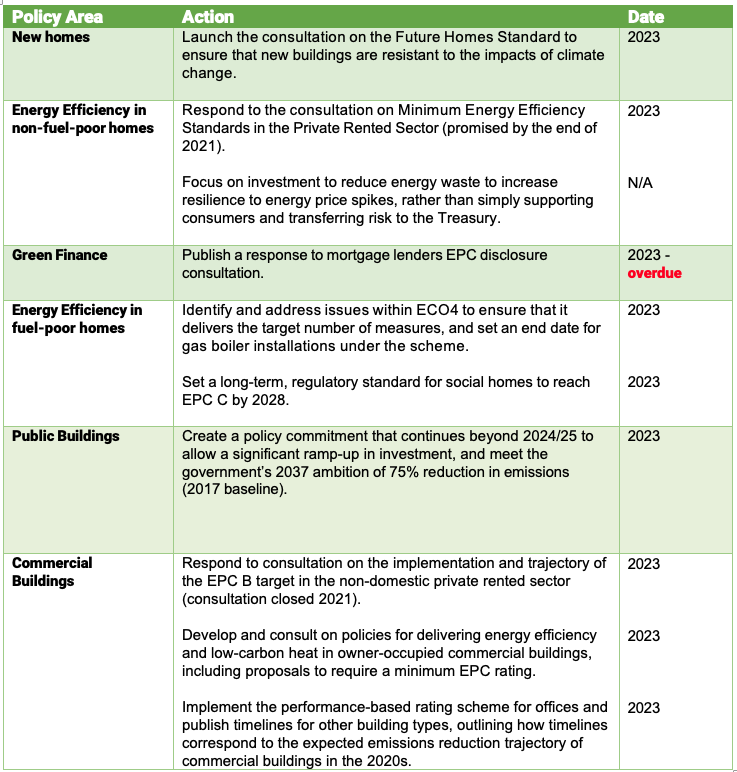 Workforce and Skills
'Workforce and skills' is another area where the CCC rated progress as being off track for achieving Net Zero. In particular, the CCC has warned that there are insufficient plans in place in terms of the ambition and timelines required in the skills sector to facilitate Net Zero. Progress is being made in specific areas, but a lack of clear strategy means that overall change is slow and fragmented. Clearer plans are needed from government to harness the potential of the transition and manage its risks.
The sector has clear cross-cutting implications on the transition in the energy efficiency sector, so slow progress in this area poses a serious risk to meeting our net zero targets in terms of decarbonising buildings.
Moving forward, there is potential for the Net Zero transition to create more jobs than will be lost. Between 135,000 and 725,000 net new jobs could be created by 2030 in low-carbon sectors, with the majority of these expected to come in the buildings retrofit sector. However, this is contingent on having a clear green skills strategy in place.
Broadly speaking, there is expected to be increased employment in growth sectors such as the retrofit sector. Low Carbon and Renewable Energy Economy (LCREE) employment across the UK grew 16% from 207,800 in 2020 to
247,400 in 2021, representing the largest year-on-year increase recorded. Over the same period, total UK employment only grew by 6%.
There are a number of key barriers in this sector that need to be overcome to reach Net Zero:
Lack of clear strategy from government
Inadequate supply of skilled workers
Lack of long-term certainty around investment incentives and sector demand
Competition from overseas
No consistent UK-wide evidence is available for monitoring progress on green skills
Low levels of diversity in the Net Zero workforce
Potentially disruptive impacts for some communities (i.e. job losses)