Welcome to your regular NIA update.
Read on to find out where you can download the slides presented by Scottish Government, the Energy Saving Trust and the Energy Skills Partnership at our successful Supply Chain Capacity event in Edinburgh last week. Also read about how important it is that you're making the most of your membership, so please take 5 minutes to complete our survey! You can also find recaps of the recent funding announcements and the consultations we are responding to on your behalf. Enjoy the update!
Make the most of your NIA membership
The 'find an installer' page on our website has an average of 2,000 views per month and is a fantastic way for NIA installers to generate business leads. A new contact form has been generated so that you'll be made aware when a referral has come from the NIA. It is therefore vital that your contact details are up-to-date and you can do this by completing the short survey here.
Thank you to those who have taken part so far! If you have any questions, please contact info@nia-uk.org
Success at our Scotland Supply Chain Capacity Event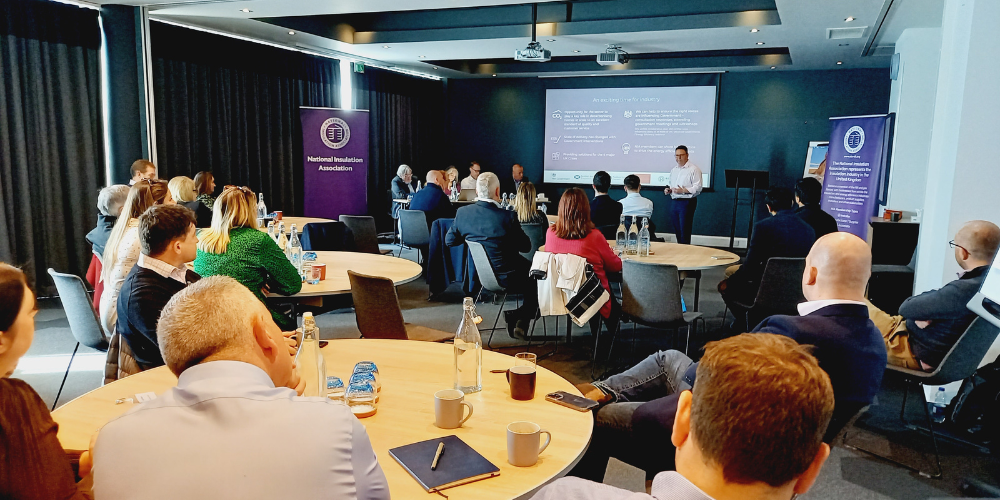 Thank you to all who joined our hotly anticipated Scotland Supply Chain Capacity Event in Edinburgh on 19 April. The event was a huge success with many members joining to discuss the current skills and training challenge we face, and the opportunity it presents for the industry.
A big thank you to our speakers – Pilar Rodriguez from Energy Saving Trust, Ed Chapman from Scottish Government and John Renwick from ESP (Energy Skills Partnership). You can find what they presented here, which covers the support available to industry to tackle skills and supply chain challenges.
It was fantastic to discuss the challenges and opportunities facing the insulation industry in Scotland and across the UK. The event was also an opportunity to emphasise the importance for the NIA and our members that we continue to put high quality installation and customer service at the heart of our work in paving the way to net zero.
The NIA Board then met afterwards and it was wonderful to gather in person to discuss our progress and plans for the rest of the year! Board meetings are important to make sure that we best represent our members. Thank you to all Board members for your valuable contributions.
Revisions to PAS 2030/2035 – Have your say!
You are invited to provide your comments on the response that we have drafted on your behalf to the BSI's consultation on revisions to PAS 2030/2035.
For businesses that already adhere to PAS standards, the revisions are fairly minor and should not have a significant impact on your project delivery. We would not expect you to experience much difficulty adapting to the latest version of PAS. The main change is the removal of pathways to simplify the risk assessment process. Most of the other changes are relatively minor alterations intended to streamline the delivery of the scheme and reduce its administrative burden on businesses.
Your input is vital so we can advocate for PAS standards that will help industry in its mission to deliver high quality, whole house retrofit at scale. Please see the draft attached.
Please email your comments to info@nia-uk.org by Wednesday 3rd May.
Get involved in our Insulation Intelligence Engagement Call
Thank you to everyone who attended the Insulation Intelligence Group engagement call last week! It was great to hear from Ruth Richmond from DESNZ on the topic of Supply Chain Skills and Capacity – what can we do to grow the supply chain to achieve net zero buildings? The call was an unrivalled opportunity for members to put across views directly to government on the challenges holding back supply chain growth and how industry and government can work together to overcome these. Ruth found your input very valuable to understand what government can do to better support you and grow the supply chain.
If you couldn't join and would like to feed in your thoughts, please see the attached presentation along with questions, and email either the NIA (info@nia-uk.org) or Ruth directly (ruth.richmond2@beis.gov.uk).
Join us on 16 May to hear from David Pierpoint from the Retrofit Academy. He will speak about How to engage a retrofit coordinator and how does it increase an NIA Member's opportunity? You will find out more about what the Retrofit Academy does, what their aims and objectives are, how you as NIA Members can get involved, and why they are play an important role in our path to net zero. We look forward to seeing you there!
New energy efficiency funding awarded
Last month, the Government awarded £1.8 billion of funding to boost energy efficiency and cut emissions in homes and public buildings across England. The funding is being delivered through the next phases of the Home Upgrade Grant, Social Housing Decarbonisation Fund and Public Sector Decarbonisation Scheme and will cover the financial years 2023-24 and 2024-25. Combined, the schemes will upgrade over 115,000 homes across England and support around 20,000 jobs in the construction and retrofit sectors.
Home Upgrade Grant Phase 2
£630m of funding delivered via local authorities.
Will deliver energy efficiency upgrades to over 25,000 private households.
Eligible households must be:

Low-income
Off the gas grid
EPC D-G

Expected to support 7,000 jobs.
For a list of successful applicants, click here.
Social Housing Decarbonisation Fund Wave 2:1
£778m of government funding, in addition to £1.1bn in match funding provided by local authorities and housing associations.
For local authorities, social housing providers and charities to upgrade their housing stock.
90,000 homes are expected to be upgraded under the scheme.
Properties must have an EPC of D to G to be eligible for improvements.
Expected to support 13,000 jobs.
For a list of successful applicants, click here.
Public Sector Decarbonisation Scheme Phase 3b
£409m of funding
144 public sector organisations have been awarded funding to decarbonise public sector buildings, such as schools and hospitals.
The scheme supports the Government's commitment to reduce emissions from public sector buildings by 75% from 2035 (compared to 2017 levels).
This is expected to save the public sector an estimated £650m per year to 2037.
For a list of successful applicants, click here.
We are delighted to attend the SHDF and HUG Retrofit Ready launch event being organised by DESNZ today (27 April). We will be at the networking breakfast (9.45-10.45) to meet successful Grant Recipients and facilitate connections with NIA member organisations. We hope to see some of you there!
We know that many of you have been instrumental to the delivery of previous phases of these schemes. Good luck to those of you that will also be involved in the upcoming phases. Keep up the good work!
Great British Insulation Scheme – Government responds
The Government has released their response to the ECO+ consultation, which has been renamed as the Great British Insulation Scheme to help with consumer awareness. The Government received 176 responses to the consultation, which were generally supportive of the proposals. The plans for the scheme's design remain broadly the same as set out in the initial consultation. You can read NIA's response here.
The £1 billion energy efficiency programme runs from April 2023 until March 2026 and aims to improve 300,000 of the country's least efficient homes (council tax bands A-D in England, and A-E in Scotland and Wales), saving households on average around £300-400 a year on energy bills. The government's strategic aims for the scheme are to help tackle fuel poverty, achieve Net Zero, and reduce total UK energy demand by 15% from 2021 levels by 2030.
The main significant change from the initial consultation proposals is that all measures delivered under the Scheme will be installed in accordance with PAS 2035/2030. This was something we argued for in our response, so we are delighted that the Government has taken our comments on board. PAS has played a critical role in raising the standard of installations and customer service across the industry. Therefore, it is important to see all ECO+ measures being delivered to PAS rather than reduced standards.
Suppliers may begin delivering measures ahead of the legislation coming into force, and Government will take steps to facilitate this. Scheme targets will be confirmed when the Final Impact Assessment is published but the Government response indicates that the first-year target will be no higher than £8,850,000 in notional Annual Bill Savings (ABS).
You can find a helpful summary of the proposed scheme here. We will shortly be posting our own summary of the Government's response on our website.
Thank you to our members for their crucial inputs to our consultation response. This is a great example of how we can work together to shape policy in the sector. Now we look forward to industry delivering the scheme successfully! If you encounter any challenges, please contact info@nia-uk.org and we can see if we can raise it.
Join our policy mailing list
NIA members are vital to help shape our consultation responses. If you would like to receive draft consultations for you to provide your input, please email info@NIA-uk.org