Hello and Welcome
Welcome to your regular NIA update, which comes at an exciting and busy time for the NIA and our members.
Read on for your invitation to attend our much anticipated in-person event in Edinburgh. We also remind you to complete our membership survey and why it is important you take part. We reflect on the success of our most recent Insulation Intelligence Group Engagement call and look forward to our next call with Ruth from DESNZ on supply chain skills and capacity. You can also hear about the NIA's visit to a retrofit construction site last week.
Enjoy the update!
Energy Bills
The Government is maintaining the Energy Price Guarantee at £2,500 for the typical household for a further 3 months until July 2023. This is expected to save households an average of £160 on their energy bills.
It is also aligning charges for direct debit and Pre-Payment Meter (PPM) customers to ensure that the more than 4 million households on PPMs no longer pay a premium for their energy costs.
Join us! Supply Chain Capacity Event in Edinburgh
You are invited to attend the NIA's Supply Chain Capacity Event in at the Novotel Edinburgh Park, Edinburgh on 19 April. The event will focus on the current skills and training landscape within the industry. It will also explore how you can make use of available funding to tackle skills and supply chain challenges.
We have an exciting and jampacked itinerary planned, giving you the opportunity to meet one another and hear from industry experts, plus a networking 3 course buffet lunch. The following confirmed speakers are:
• Pilar Rodriguez, Green Heat Installer Engagement Programme Manager at Energy Savings Trust, to discuss funding mechanisms.
• John Ren

w

ick, Sector Manager of Construction ESP, will discuss the challenge of the skills and training gap and how industry can support its progress.
• George Donaldson, NIA Board Member, and representative of Scottish NIA, speaking on how industry can positively step up to the challenges faced and how they can help to influence policy in Scotland.
Places are limited to two per organisation. To secure your place, please email info@nia-uk.org.
Your input matters – have your say to make the most of your membership
Thank you to those who have taken part in our short 5-minute survey. If you haven't already done so, please click here to take part now! It will help make sure you get the most out of your NIA membership.
The postcode locator page on our website has an average of 2,000 views per month, and is a fantastic way for installers to generate business leads. A contact form has been produced so that you'll be made aware when a referral has come from the NIA and therefore it is vital that you complete the survey to ensure your contact details are up-to-date. The survey will also provide you with an opportunity to share your thoughts on how the NIA can best represent you going forward.
Please complete the survey by 14 March 2023. If you have any questions, please do let us know. We look forward to hearing from you.
Get in the know - Join our Insulation Intelligence Group Calls
Thank you to everyone who attended the Insulation Intelligence Group engagement call last week! It was wonderful to hear from Robert Cartwright, Director of Energy Services & Solutions at CoreLogic, who gave an informative and insightful presentation about PAS2035, ECO4 & ECO+.
You are encouraged to attend our next call on 20 April, which offers you an amazing opportunity to feed in directly with government. Ruth Richmond from the Department for Energy Security and Net Zero will be speaking on the topic of Supply Chain Skills and Capacity – what can we do to grow the supply chain to achieve net zero buildings?
Ruth invites you to share the challenges you feel are holding back supply chain growth, and how government and industry can work together to address these challenges. This is a fantastic chance to directly engage and influence policymakers about the issues facing the industry.
On 16 May, you will have the opportunity to join the engagement call with David Pierpoint from the Retrofit Academy for Building retrofit capacity and capability – how can you support a growing energy efficiency workforce? More details to follow in due course.
NIA visits retrofit construction site
Last week, our Policy Advisers Fiona Chestnutt and Matt Rudd visited NIA member Sustainable Building Services at one of their retrofit sites in Reading. It was wonderful to see such a fantastic example of how industry can deliver retrofit projects to high standards and in line with industry best practice.
We came away with some fascinating insights on the challenges facing retrofit projects on the ground and how policy can address these to make the retrofit process as effective and efficient as possible. We will be sharing these thoughts with you via a thought leadership piece. We will continue to advocate for policies that will make the retrofit process work better for insulation businesses and their customers.
It is very important that you, as NIA members share your personal experience delivering retrofit schemes and working in the industry, so that we can better understand your challenges to help influence our discussions with government. Please do reach out to share any insights you may have, by emailing info@nia-uk.org or calling 0121 716 4558.
Massive thank you to Sustainable Building Services (UK) Ltd for letting us visit and keep up the good work!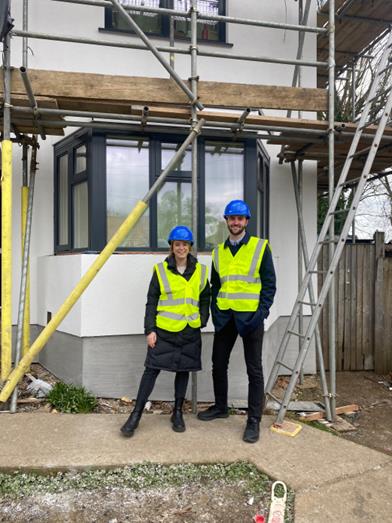 NIA responds to the Just Transition Plan to Net Zero Wales Consultation
The NIA will respond to the Welsh Government's Just Transition to Net Zero Wales consultation. It seeks views on the best approach for Wales to achieve net zero by 2050. The evidence gathered will inform the development of the country's decarbonisation pathway.
You can view the consultation documents here, and the submission will shortly be posted on our consultations webpage.
Join our policy mailing list
NIA members are vital to help shape our consultation responses. If you would like to receive draft consultations for you to provide your input, please email info@NIA-uk.org.