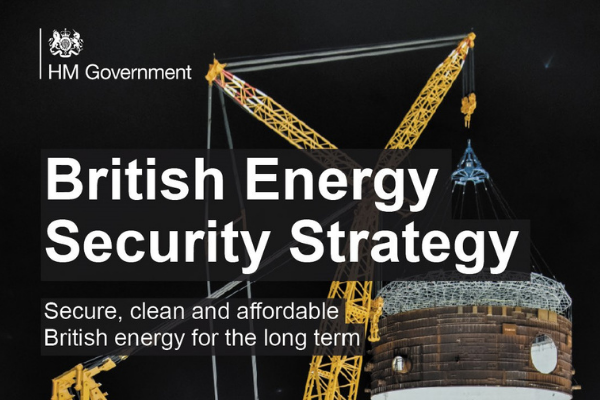 British Energy Security Strategy
British Energy Security Strategy
The Government has published its Energy Security Strategy today as part of its plans to boost Britain's energy security following rising global energy prices and volatility in international markets.
Whilst key announcements focus more on additional supply, there are also key aspects that cover energy efficiency and demand reduction. However, the vast majority of the announcement, summarised below, is old news.
Energy Efficiency in Products and Buildings
Better labelling and product standards to be introduced so consumers can purchase more energy efficient products within heating, lighting, washing, and cooking.
The installation of household's energy saving measures to be VAT free for the next 5 years. This is estimated to reduce the cost to consumers of insulation, double glazing, installing solar panels and heat pumps saving families £200 off the cost of installation.
A dedicated energy advice offering for smaller businesses to be established. This service is to deliver trusted advice on improving energy efficiency and decarbonisation.
Clearer energy performance standards across all buildings to be introduced phased in over the long term. This is likely to be linked to the EPC Action Plan.
Smart meters in new buildings to be deployed at a more accelerated rate.
Doubling of funding available to develop and pilot new green finance products for consumers from £10 million to £20 million.
Introduction of scheme under which lenders will work to improve the energy performance of properties.
Heat in Buildings
Heat pump manufacturing to be expanded supported by a Heat Pump Investment Accelerator Competition in 2022. This is estimated to be worth up to £30 million to make British heat pumps, which reduce demand for gas.
The UK hydrogen ambition to double up to 10GW of low carbon hydrogen production capacity by 2030. While this is to be used for cleaner power and transport, there is potential for fuelling heat.
The UK's current 14GW solar capacity to grow up to five times by 2035. There will be consultation on the rule of solar projects on domestic and commercial rooftops.
Low-cost finance from retail lenders to be facilitated to drive rooftop deployment and energy efficiency measures.
Performance standards to be designed to make installation of renewables, including solar PV, the presumption in new homes and buildings.
From the industry, Neptune energy will invest to support the priorities through increasing production from Duva field in Norway to heat an additional 350,000 homes in the country.
£450 million Boiler Upgrade Scheme.
Commitment to 'rebalancing' the costs placed on energy bills away from electricity to incentivise electrification across the economy and accelerate consumers. This will also ensure heat pumps are comparatively cheap to run over time. BEIS will publish proposals on how to do so in 2022, considering overall system impacts and limiting the impact on bills, particularly for low-income consumers